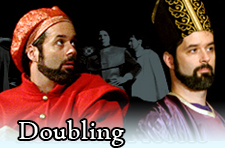 Modern Doubling Technique
Step 1
Break Up the Text into French Scenes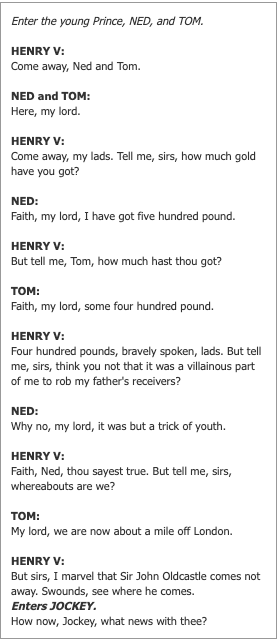 As you will see from the text opposite, the printed edition of Famous Victories simply starts with the stage direction: "Enter the young Prince, Ned and Tom."  There is no indication of act or scene. The fact that early Elizabethan plays do not contain act and scene breaks is an indication that the action is designed to be fluid and not broken by time-consuming set changes. But the person in charge of doubling needs to break the action into discrete units. At each moment in the play, they need to know who is on stage, with whom, and for how long. To create a doubling chart, we need to break the action into French scenes.

The French scene derives from the neo-classical playwrights of France who marked a new scene in their texts every time a character entered or exited the stage. The English practice, which is the one that came to be used in later printed editions of Elizabethan plays, was to mark a scene only when the stage cleared and a new set of characters entered. An English scene therefore might contain several French scenes.


Try it Yourself
Print out a copy of the scene and read through the text marking a new French scene number each time a character enters or exits the stage.
Step 2
Step 3
Step 4
Step 5