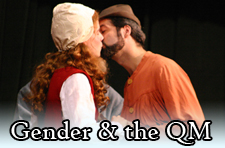 Introduction
Recent Research on Boy Actors
Contemporary Casting Issues
Representing Women
Stereotype or Essence
Boys Playing Women
Dynamic in the Rehearsal Room
Julian DeZotti and Representing Women
Lacy's Love Test
Introduction
Introduction
It is commonly known that boys played women's roles in the Elizabethan theatre and it has long been presumed that these "boys" were pre-pubescent males. Recent research suggests that the age of the actors that played female roles ranged from as young as twelve to as old as twenty or twenty-one. We hoped to employ actors of a comparable age for our company but this proved impractical. The "boys" in our company were all grown men ranging in age from 24-27.
The cultural connotations of boys playing women in our society were clearly different than they were for the original company. The cross-dressing on the Elizabethan stage was a matter of great contention for some Elizabethans, but it was also a standard practice familiar to the audience whereas for most members of our audience it was a new experience. It was also new to our actors who had to learn to effectively represent women on the stage.
Responses to their performances varied from those that felt they highlighted the stereotypical nature of the female characters in the plays, to those who felt our male actors were able to capture the essence of femininity. Working with an all-male company created a very specific dynamic in the rehearsal room, and the experience of preparing and performing these plays using an all-male cast gave us insight into the shifting cultural ground between Elizabethan England and 21st century Canada.
Recent Research on Boy Actors
Recent Research on Boy Actors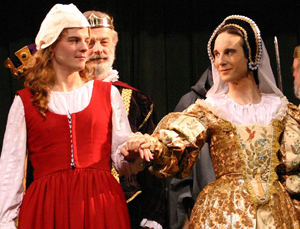 The actors playing female roles were referred to as boys in contemporary sources, but also as youths and young men (221). It would appear that the term boy was closely associated with apprenticeship. Once an individual had completed their apprenticeship they would be made a freeman of their livery company, which marked their transition into adulthood. At this point, usually around the age of twenty-four, a young man might consider marriage. A young man of twenty, therefore, may have biologically entered manhood but socially he remained a boy or at best a youth.
Kathman indirectly refers to young men in their twenties as "adolescent boys." This is an understandable inclination. First, he is trying to counter arguments made elsewhere that the more complex female roles would have been played by adult actors 2, and second because there is some evidence to suggest that puberty may have been delayed due to lower nutrition. But the latest age Kathman presents for the onset of puberty from contemporary sources is eighteen (222), and since we know women's roles were played by actors older than eighteen it is reasonable to presume that female roles were played by post-pubescent young men. I am not arguing against Kathman here but merely clarifying a point. Indeed, Kathman presents evidence that apprentice actors in their late teens played the roles of young men and women in the same play.
There was therefore a degree of flexibility in the casting of the young apprentices in an Elizabethan company. One can imagine circumstances that would influence such casting. An actor that developed a basso-profundo voice and a grizzly beard at fifteen might progress more quickly to male roles; alternatively, an actor whose build remained slight, beard scanty and voice high, might continue to play female roles into his twenties.
1
 Andrew Gurr questions Kathman's conclusion on the grounds that the average age for apprenticeship was seventeen, citing Steve Rappaport's work on Elizabethan guild structures. There is certainly a discrepancy between Rappaport's assessment of the average age for the commencement of apprenticeship and Kathman's evidence, but Kathman provides concrete evidence of actors apprenticed at the age of twelve and Gurr does not counter this evidence with any specific evidence of his own. The discrepancy remains to be resolved but it is possible that theatre actors were allowed special privilege in this matter within their guilds, given their need for young boys to play women's roles. See Andrew Gurr, 'The Work of Elizabethan Plotters, and 
2
 The Seven Deadly Sins' Early Theatre 10.1 (2007), 82-3, and Steve Rappaport, Worlds Within Worlds: Structures of Life in Sixteenth Century London (Cambridge: Cambridge University Press, 1989), 295-324.
Contemporary Casting Issues
Contemporary Casting Issues
While it may seem hard to fathom, the boys and young men in early modern theatre companies had the skill and ability to play extremely complex female roles. So why not cast boys to play the women in our company? The answer is that the structure of our acting profession no longer supports this practice. If an apprentice in Shakespeare's company was to play a character of Lady Macbeth at the age of seventeen, he may already have between three and five years experience working fulltime in a professional theatre company. While there are some modern actors of this age with similar experience, they largely work in television and film, a medium that regularly uses child actors, and can do so while allowing them to fulfill their school commitments.
This presented us with several problems:
Young actors with enough experience would expect to be paid full union wages, which we could not afford. Even if we could have paid theatre union rates it would have been negligible in relation to the money these actors could earn on television.
While they would have had experience on television and movie sets, they would not necessarily have any experience on the stage.
We would have to accommodate their schooling and due to the tight time frame in which we were operating we needed actors who could commit full-time.
We decided therefore to cast older male actors in the female roles.
Representing Women
Representing Women
Our movement consultant Emily Winerock gave the company lessons on Elizabethan dance and posture. The picture to the right features the Earl of Wriothesley, a contemporary of the Queen's Men, and gives a good impression of the posture adopted by aristocrats and gentlemen in England. One hand is held by the hilt of the sword, the other, resting next to his helmet, was free to gesture while speaking. The angle and distance between his feet was deliberately adopted to give the appearance of grace and to feature the man's shapely calves.
Emily told our "boys" that the angle of the feet would have been the same for ladies of the day, but that the women's feet were held close together, almost touching. She also informed us that a lady's hands should be held together in front of them, as in the picture to the left. Physicality was highly codified in the Elizabethan court, and the contrast between the posture of the men and the women is as striking as the similarities. The posture of the men was expansive in comparison to the more self-contained physicality of the women
Our boys were all grown men and their voices had broken long ago. In the initial stages of our rehearsal, I suggested they explore the higher tones in their voices while developing their characters. Restricting the voice of actors in this way can cause problems, as actors often feel disconnected from the significance of the words they speak when they deliberately manipulate the quality of the sound they are producing.
Once we started performing the plays it soon became clear that the audience was unconcerned with the quality of sound produced by the "boys". The actors were thus freed to focus on the action of their characters, but the early stages of experimentation still paid off and the "boys" were able to produce performances that were clearly distinct from the performances of the men in the company.Although the actors engaged in the physical and vocal work described above, their primary concern was to understanding the words and actions of their characters. Physical and vocal work as described above carries dangers for actors as the new movements can feel artificial and restrictive and can prevent them from fully connecting with their roles. So to a certain extent, the actors playing the female roles approached them as they would any other. They worked to understand exactly what their characters were saying and doing, analyzing the text and considering their characters' given circumstances, objectives and obstacles.
Stereotype or Essence
In the texts…
Compared to the complex roles written for women in later Elizabethan and Jacobean drama, the Queen's Men's women are relatively straightforward. King Leir's three daughters resemble characters from a fairy tale like Cinderella. Goneril and Ragan are the wicked sisters and the play characterizes them as lustful, greedy, deceitful, manipulative and ultimately murderous; Cordella in contrast is mild, patient, loving and chaste, selfless and forgiving.
The striking contrast between the sisters reflects the dichotomized attitude towards women present in the patriarchal society of the day. Women were simultaneously seen as a source of evil and temptation, and were thought to offer potential redemption for man through their greater capacity for love and forgiveness. In King Leir Cordella could be said to be a representation of the patriarchal ideal woman, whereas Goneril and Ragan are characters that confirm the patriarchy's worst fears.
In performance…
During one of our talkback sessions following a performance, a member of the audience said that watching our boys perform helped him understand arguments made by Japanese Noh theatre practitioners. He informed us that Noh theatre artists believe that men can play women's roles because only men can understand the essence of femininity, and he felt that our boys had captured something of that essence.
The convention of using male actors for female roles in Noh theatre is far more likely to be a consequence of patriarchal prejudices as it was in Elizabethan England – the same rationale did not lead to women playing the men's roles. But while this audience member's response was far from my experience of watching the performances I think it is a fascinating idea. To me the performances always remained to a certain extent stereotypical: a performance of a male idea of what it means to be a woman.
What preconceptions led me to view the performances in this way and for another male member of the audience to see them as capturing essential qualities of womanhood?
In theory…
The ideas of the stereotype and the essence both involve a sense of distillation or reduction. The difference would seem to be in the way in which we see that distillation. If it agrees with our world view in a general sense then it is an essence, if it fits a certain aspect of that view, or with particular attitudes or prejudices, then it is a stereotype. I saw the characters as representations of Elizabethan patriarchal attitudes towards women and my response to the actors' performances was colored by my knowledge of the culture that produced the plays. The female characters were types that represented a patriarchal perspective on women and my awareness of the characters as types prevented me from fully engaging with the characters as individuals or from seeing them as in any way essential. The audience member that saw them in this way either did not share my knowledge of the background, or his own world view was not wildly out of tune with the patriarchal attitudes behind the play.
Boys Playing Women
Boys Playing Women 
Public theatres did not have high cultural capital in early modern England. The city authorities characterized them as dens of iniquity and they were in fact located adjacent to London's brothels. A woman appearing on the stage would ruin her reputation and lend strength to the city father's arguments that theatre's lascivious shows incite the good citizens of London to sin. Casting male actors in the female roles was a way of dealing with the moral objections of powerful elements of English society.
The objections to theatre did not stop, of course, and there was an on-going battle waged against the theatre by radical puritans. The practice of using males to play women's roles actors, although intended to assuage moralistic concerns, became an object in that attack:
More intriguingly, perhaps, some travel writers who had seen women act on the continent found them less credible as female characters than the boy actors they were used to. Thus George Sandys thought that "the parts of women" he saw "acted by women" in Messina were "too naturally passionated," or too life-like to make for credible representation. His contemporary George Coryate had to profess amazement that women he saw act in Venice performed their roles "with as good a grace, action, gesture, and whatsoever convenient for a player" as any "masculine actor." While his judgement, unlike Sandys's, was positive, both share a common principle: that the best kind of representation of feminity on stage can be delivered by a (young) man. This is particularly clear in Henry Jackson's description of an Oxford perfomance of Othello in 1610. Jackson makes no distinction between the boy who played Desdemona and the female character he portrayed: "Desdemona," he writes, "although she always acted the matter very well, in her death moved us still more greatly; when lying in bed she implored the pity of those watching with her countenance alone." Not only has the boy underneath the woman's clothes disappeared here, the actor's own gender has been obscured as well: it is Desdemona who is doing the acting.
Unlike Jackson, some of our own audience members reported that the presence of an all-male company on stage made them more aware of the particular way in which women were represented in the plays. My own perspective was more in line with this response. The performances of the women's roles, while at times subtle and complex, always remained the product of men and reflected a male perspective on women. That said, as noted above, the skill of our "boy" actors transported many in our audience beyond a binary perception of gender. The audience members responded in a variety of ways and as you watch videos of our "boys" action you may discover your own insights into the convention as it works in our world and as we imagine it might have in Elizabethan England.
Dynamic in the Rehearsal Room
Dynamic in the Rehearsal Room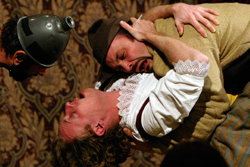 One informative moment in our rehearsal process came during the "playwright's reading" of Famous Victories. The company had been working together at this point for three weeks. Before the reading began, Matthew Krist, who played Goneril in King Leir took the opportunity to address the company and to request that since he was playing a lady he would appreciate being treated as a lady. Apparently he had been subjected to a variety of unwelcome approaches from other members of the company and was tired of their lewd comments and pinches on his backside. The request was highly amusing to us all and was presented in a humorous fashion but Matthew made it clear that his frustration was in part genuine.
Director's Observations
The actors were very sensitive to issues of gender in the workplace and, as Scott notes, would not behave towards a female actress in the same way they treated Matthew, but, that said, the dynamic of our all-male company was still markedly different than that found in a modern mixed sex company. While the actors did not feel this affected the work, it is hard to imagine this to be the case. Scott observes that the absence of women generated a locker room atmosphere at times, and I would argue that some of this energy carried over into the shows and worked well with the plays as they were written. The Cobbler's Wife scene in Famous Victories is a good example of where this was apparent. The representation of the Cobbler's Wife in this scene is grotesque, plays directly into Elizabethan stereotypes, and is carried by a particularly male energy. The opening scene of Friar Bacon & Friar Bungay is another good example of the same. It is in scenes like this that the "locker room" atmosphere described by Scott had an impact on the creative work of the company.
The actors were very sensitive to issues of gender in the workplace and, as Scott notes, would not behave towards a female actress in the same way they treated Matthew, but, that said, the dynamic of our all-male company was still markedly different than that found in a modern mixed sex company. While the actors did not feel this affected the work, it is hard to imagine this to be the case. Scott observes that the absence of women generated a locker room atmosphere at times, and I would argue that some of this energy carried over into the shows and worked well with the plays as they were written. The Cobbler's Wife scene in Famous Victories is a good example of where this was apparent. The representation of the Cobbler's Wife in this scene is grotesque, plays directly into Elizabethan stereotypes, and is carried by a particularly male energy. The opening scene of Friar Bacon & Friar Bungay is another good example of the same. It is in scenes like this that the "locker room" atmosphere described by Scott had an impact on the creative work of the company.
Julian DeZotti and Representing Women
Julian DeZotti and Representing Women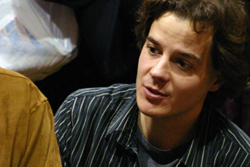 Julian DeZotti played the main female role in each of our three plays: Cordella in King Leir, French Kate in Famous Victories and Margaret in Friar Bacon and Friar Bungay. I encouraged the actors to look for similarity between the roles they performed in different plays to help ease the time pressure created by our rehearsal process. There is no need to spend time on characterization if you are basically playing the same role in each play. Julian, however, followed his own instincts and training in this matter and looked for ways to distinguish between the three characters.
Director's Observations
Julian made each of his characters distinct but yet there remained clear similarities between them, and as he became more confident in performance, each role took on aspects of the others. Julian was more comfortable developing Cordella's playful moments with Mumford once he had found the flirtatious quality in Kate and Margaret. This in turn gave more life to his performance of Cordella's struggles as she started to feel like a more complete person to him. The result was that each character became richer and less one-dimensional as Julian developed the range of performative possibilities open to him as a man playing a woman. Paradoxically, the similarities between the characters increased as time went on.
Should the complexity Julian was able to find in his roles persuade us that the Queen's Men playwrights were enlightened and forward-thinking on the issue of gender and the representation of women? The strength of character visible in Julian's performance of Cordella is certainly admirable, but what about the stereotypical attitudes towards women apparent in the comic cameos that appear in the plays? The hostess in Friar Bacon and Friar Bungay and John Cobbler's wife in Famous Victories are good examples.
Lacy's Love Test
Lacy's Love Test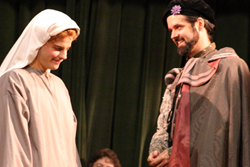 The love test scene in Friar Bacon and Friar Bungay is a good example of the complex dynamic created by the representation of gender in the SQM productions. Prior to this scene Lord Lacy has sent a letter to Margaret breaking off their engagement and telling her he has decided to marry an aristocrat instead. Margaret has decided to enter a convent and in this scene we discover that Lacy only sent the letter in order to test Margaret's faithfulness. Before proceeding to the discussion, you may want to print out the scene and read it to familiarize yourself with the text 
A Popular Motif in Elizabethan Drama
The love test is a popular motif in Elizabethan drama; indeed the action of King Leir is begun by a comparable scene. To modern eyes the behavior of the man jealous of the women's affections is suspect, but an Elizabethan audience might have seen their actions as justified. For men living in a patriarchal society the chastity of women is extremely important as the continuation of a man's family name is dependent on the legitimacy of his children. All the humour surrounding cuckolds in this period is now read a sign of male anxiety about the chastity of women. Given this wide-felt anxiety, it is possible, that members of the Elizabethan audience might have viewed love tests as clever ways to establish a woman's faithfulness. Such an audience member might respond with nods of approval for Lacy's wise action, and with delight at the discovery that Margaret proves herself to be the ideal wife, so loyal and chaste that she would enter a convent rather than find another man.
An Acting Challenge
The actors not surprisingly found the premise of this scene ridiculous but I insisted that they try to play it straight. Although I did not direct in the traditional manner I did try to remain true to our understanding of the society that created these plays. Maintaining a sense of cultural difference was particularly challenging in this scene and in practice it proved impossible. In spite of the actors best efforts to play the scene seriously, the audience found it amusing and as their performances developed over the course of the run the scene became funnier and more ironic.